Jobba hos oss - Kom och bygg framtidens bank hos oss i Solna!
Vi lever vårt varumärke genom att ha en kultur som genomsyras av våra värdeord – Simple, Personal and Fair. De är nyckeln till hur vi blir det självklara valet för våra kunder och den bästa arbetsplatsen för våra anställda.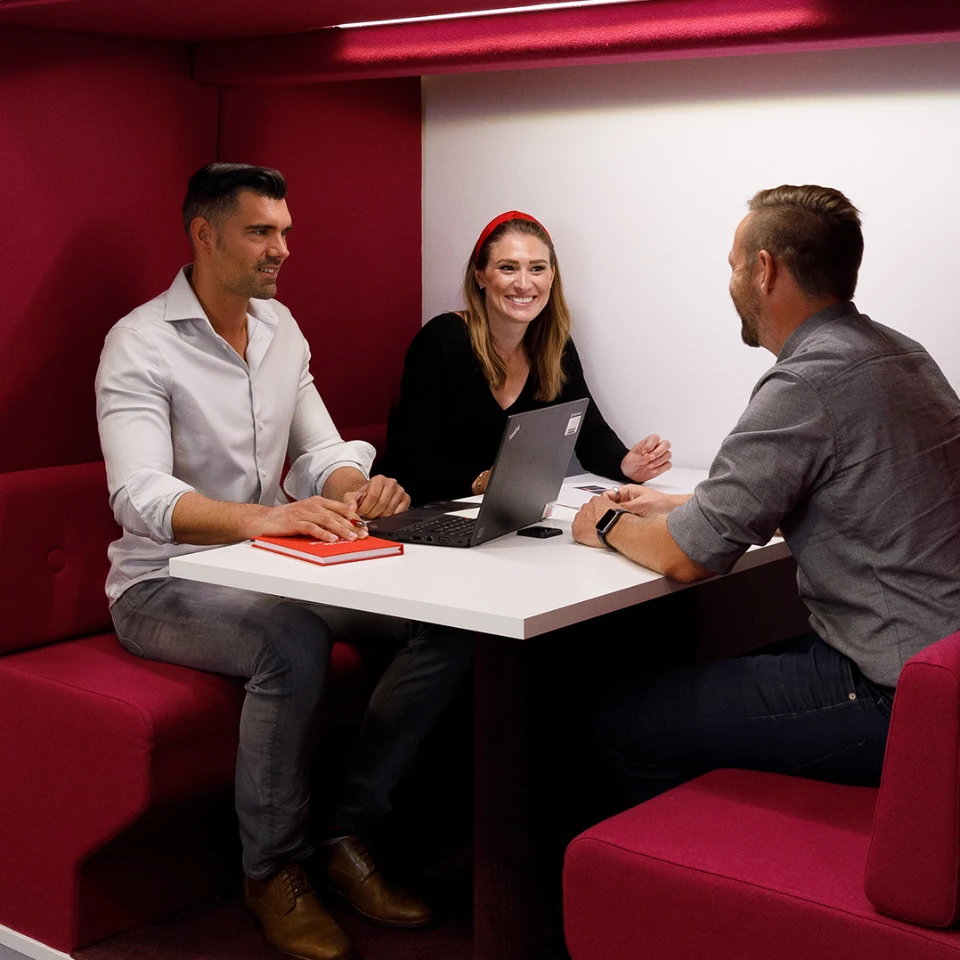 Vill du bli en av oss?
Se våra lediga tjänster.
Internal Communication Manager

The Internal Communication manager based in Denmark will be part of a team responsible for empowering our people with solid communication - to understand where the bank is headed and provide high quality communications services tailored to our organization's needs.

The internal communications manager will be part of a highly skilled and dedicated team and operate as a business partner to deliver value to our internal stakeholders.
Ensure holistic, structured, relevant and timely communication. Ensure clear, relevant messages, in an open and honest manner.
Proactively seek to improve - develop and learn.

The team is dedicated to

Modernize and simplify our channels to improve efficient communication through new meeting structure/arenas, and in Teams/SharePoint/Microsoft 365.
Drive or participate in internal initiatives together with stakeholders, such as transformation programs, Modern Workplace, BeHealthy Week, Santander Week, Hacktober, Annual report production and more.
Handle strategic and tactical communication planning, support and coach leaders, concept development, copywriting, editing, video production and multimedia, inhouse/external services, manage corporate brand, create visuals, coordinate and host bank wide and location specific meetings/forums/networks.
The candidate must be motivated for building the role and creating structure as the role is new in Denmark.

In Santander Consumer Bank in the Nordics, the internal communications team facilitates a new generation of communication culture, exploring adequate and modern tools to foster collaboration, contributing to a strong Bank culture through simple, personal and fair communication.
Digital Traffic & Project Manager

We have an interesting position – could you be the one we are looking for?

Do you have strong Digital Marketing background and love to extract value out of data to optimize digital marketing performance? Do you have good collaboration skills to align and build plans with internal stakeholders and translate these to solid roadmaps with our digital agency? Then this job is a perfect match, as you will enjoy putting your skills into practice working with great colleagues in the digital marketing team as well as with other important stakeholders.

Main task and responsibilities

As a Digital Traffic & Project Manager you will be responsible for planning, developing, and managing the company's overall traffic and acquisition strategy for the Nordics in close co-operation with the agency and the sales managers. ​

The tasks will include, but not be limited to the following:

Responsible and owner of all our traffic sources externally and landing pages.
Extract value out of data, and proactively fetch information from various sources and analyzes in co-operation with the digital analyst for better understanding on how our digital platforms and traffic sources perform ​
Responsible for coordinating and jointly with other stakeholder's plan, develop, implement and manage the company's overall CRO, SEO and website development activities.
Own the overall SEO strategy for the Nordics and make sure to optimize all our websites in order to achieve higher search engine rankings. This is done in co-operation with our content and web development teams while the external agency partner supports us with the up-to-date practicalities. ​
The Digital Traffic & Project Manager will also act as a project lead in digital marketing related projects

Personal Characteristics

Creative problem-solver with good business intuition
Strong analytical mind-set
A curios personality, being slightly techy-savvy but at the same time business-oriented, with a drive to do things better, smarter and more efficient all the time
Ability to adapt to changing environment & market changes
Excellent communication skills & Strong hunger to always experiment, learn & improve
data "story-telling" abilities
Critical thinker and ability to challenge "status quo"
Service-minded & excellent collaboration skills
High work capacity and strong motivation for the role
Team player!

Competencies and Skills

Solid foundational understanding of media concepts, terminology, and bid-based buying models.
Must have experience with international media strategy/buying and campaign management.
Experience working with conversion tracking and mobile marketing attribution partners (such as Firebase) and digital reporting tools (such as Google Analytics) is required.
Experience and understanding of paid social, programmatic, and SEM buying platforms (demand side platforms, Google Ads, DV360, SA360, Facebook Business Manager, etc.) is required.
Self-starter, highly motivated, teamplayer, excellent communicator, and able to thrive in a fast-paced environment.
Strong analytics skills are a must.
Strong project management / co-ordination skills are a must.
Experience or knowledge about html and Javascript. Languages / SEO & CRO is an advantage.
Experience with Episerver is an advantage
Fluent in written and spoken English and one of the Nordic languages

Preferred Experience & Education

4+ years of experience in relevant field (digital media buying, performance media/marketing, direct response).
Digital media agency experience strongly preferred
Experience with and understanding of the Google marketing stack
Experience in quantifying marketing impact including SEO performance
Bachelor/Master degree is preferred but relevant experience can be just as good

We offer

An opportunity to work in a large, high-performing international company, in a dynamic environment that is constantly changing
A corporate culture that is professional and dynamic, yet informal. Bureaucracy is kept to a minimum, as we expect our skilled employees to make long lasting and impactful decisions to shape our future
Highly competent, dedicated, and friendly co-workers with strong collaboration across the Nordics

This position can be located in any of our Nordic locations in Helsinki, Hvidovre, Solna or Lysaker.

Interested?

If you have the right profile and enthusiasm, please submit your application and CV as soon as possible. Applications are considered on an ongoing basis.

If any questions feel free to contact Digital Marketing Leader, Usko Manninen at

Usko.Manninen@santanderconsumer.fi
Fraud Prevention Specialist - Temp

Fraud Team in Stockholm

We are looking for a Fraud Prevention Specialist in Stockholm – temp until end of August 2022

Your tasks:

On daily basis:

The Fraud Prevention Specialist will be a subject matter expert on fraud, fraud prevention, fraud trends and fraud numbers. The Fraud prevention Specialist is the go-to person for all fraud-related matters within a product and will have in-depth knowledge on how the Bank is combating fraud within our product-specter.

The position will drive the analysis to better understand the fraudulent customers, and what mitigating actions SCB should focus on. The Fraud Specialist should be included in onboarding of new Partners and follow up of these.

Fraud Prevention specialist will share customer insights, behaviors, and trends throughout the FCP team and the wider Santander organization.

Your qualifications and skills:

+3 years relevant work experience; preferably in banking industry within financial crime area
Data extraction, statistical analysis and model building within a financial institution domain such as risk or fraud
Proven experience in fraud prevention

Qualifications and experience:

Insight in different types of fraud
Up to date on leading analytics technology and platforms
Proven analytical expertise within fraud
High quantitative and analytical competence
Very good business understanding and the story behind the numbers
Fluent in written and spoken English and one of Scandinavian languages

Are you interested?

If you have the right profile, will and enthusiasm, please send your application and CV via the link.

You are welcome to contact Jeanette Holm on tel. +46-70-213 78 93, if you have any questions about the position.

The job is to be filled as soon as possible, so we therefore encourage you to send your application as soon as possible.
Medarbetare till Kundservice

Har du ett starkt intresse för kundrelationer och trivs med kundkontakt? Vill du arbeta i ett team som har gemensamma målsättningar och där vi möter framgångar och motgångar tillsammans?

I rollen som kundservicemedarbetare arbetar du med inkommande samtal och mejl från bankens både befintliga och potentiella kunder. Din arbetsuppgift är att hitta rätt lösning till kunden och du administrerar sedan ärendena i affärssystemet. Du ingår i ett team med en närvarande teamledare som motiverar dig och ger dig stöd i arbetet. Du erbjuds goda utvecklingsmöjligheter.

Arbetsuppgifter

Som kundservicemedarbetare kommer du;

Via telefon ta emot samtal från både nya och befintliga kunder för frågor kring våra lån och krediter
Vid inkommande samtal erbjuda både nya och befintliga kunder tilläggstjänster och informera om hela bankens produktportfölj

För att trivas i rollen är du försäljnings- och resultatinriktad och du tycker om att supportera och hjälpa andra i ditt arbete. Du är självgående och har lätt för att driva ditt arbete framåt och gör det med hög kvalité. Då rollen innebär uteslutande både intern och extern kontakt är du social och har god kommunikativ förmåga. För att lyckas i rollen är du målinriktad och motiveras av att prestera högt.
Senior Retail Risk Analyst, Auto

Do you want to analyse the credit risk of the auto portfolio in Santander?

Consumer Bank is part of Europe's largest financial group. We offer a position in an exciting and challenging environment with good and skilled colleagues. This is a job that gives you a good opportunity for professional and personal development in a dynamic company.

The job
We focus on the credit risk management of Santander's auto portfolio including development and fine-tuning of the lending processes. As an IRB bank everything we do must be in accordance with the regulatory parameters (PD, LGD, EAD), capital impact (RWA) and profitability (RORWA).

As Senior Retail Risk Analyst you must have a sound understanding of the Norwegian car market, regulation, and experience with credit risk management.

You will be responsible for managing and analysing the underlying portfolios and secure that the credit risk strategies are in line with the predetermined risk appetite and sound credit processes. The duties include continuous optimization of the credit decision process through data analysis and mining. We use statistical software from SAS Institute why good skills in these products or similar are a necessity.

You must be driven by curiosity to find current trends and underlying reasons and being able to communicate those. It is also essential that you can transform your findings into ideas to optimise our credit application flow.

The team consists of many nationalities across the Nordic countries, and English is the natural working language. The department has a powerful desire for collaboration, and even though your colleague might not be physically nearby, help is just a call away. Therefore, you can also expect to be included in tasks with a broader Nordic angle than just the Norwegian.

Since many of our tasks involve other departments excellent communication and personal skills are needed and a proactive attitude is an advantage

We offer a job with a lot of variety and where cooperation is key to success. The tasks vary often, and you must be ready for an "unplanned" day.
Key Account Manager – Region Øst – Ansvar Viken

Vil du bli vår nye Key Account Manager med budsjettansvar i bilforhandlerkanalen lokalisert på Lysaker? Er du god på å bygge relasjoner og kan dokumentere gode resultater innen salg til bedriftsmarkedet?

Santander har klare ambisjoner om å fortsette å vokse i et spennende marked. Vi er markedsledende innenfor bil- og fritidssegmentet i Norge. Vi drives av å bygge vinnerlag både hos våre samarbeidspartnere og i Santander. Vi ser etter deg som er en god relasjonsbygger og evner å skape solide resultater sammen med andre.

Ansvarsområde:

Foredle en etablert portefølje av bil- og fritidsforhandlere med budsjettansvar, på en tillitsvekkende og drivende måte, i tillegg til å utvikle nye samarbeid
Skape merverdi for Santander sine partnere ved å gjennomføre salg- og markedsaktiviteter
Utvikle partnerne ved god opplæring, coaching og faglig oppdateringer
Kartlegge kredittbehov og etablere kredittrammer i samarbeid med bankens kredittavdeling
Bygge relasjoner eksternt og internt
Ta ansvar for markedsførings- og salgskampanjer
Se forretningsmuligheter og evne å kapitalisere på disse
Bidra til å spille andre gode og sette samarbeidspartnere i sentrum
Salesforce Administrator

Salesforce Administrator

Are you ready for a change? We are.

Santander is changing. In fact, we are changing all the time. This makes us not just one of the biggest financial institutions in Europe, but also maybe the most exciting one. Especially for you as an employee. Being agile and adaptable to new technology plays a big role in who we are and what we offer. Now, we are building a new pan-Nordic application organization, and we want you to be a part of it. You will cooperate with developers, architects, Scrum master, product owners, our Nordic IT operation unit and cyber security teams and our commercial partners cross Nordic.

Some travel is required.

Areas of responsibility

Administration - Set up workflows, reports and dashboard, business rules and technical requirements.
Perform administrator functions such as user management, profiles, roles, permissions, rules, assignment rules, queues, licenses, capacity and storage management.
Maintain and deploy changes to higher Salesforce environments in collaboration with developers.
Advocate for consistent adoption of Salesforce across the organization.
Work with end users to provide coaching around best practices and tips on Salesforce usage.
Customize reporting and dashboards for various teams, provide reports and report training.
Stay current with Salesforce releases and corresponding documentation and provide new functionalities and solutions as needed.

Competence and requirements

Strong knowledge of Scrum or other agile methodologies
Experience with agile software development
Preferably experience from the banking or financial sector
Ability to completely understand complex business and technical issues
Software development experience in a similar role
Excellent verbal and written communication and collaboration skills
Preferably a Salesforce certification

Skills

Technical understanding
Salesforce Flows
Process orchestration
User training
Declarative programming (AppBuilder)
Presentation skills (show and tell)

Personal characteristics

Communicative
Independent & Self-driven
Team oriented
Analytical
Structured

We offer

An opportunity to work in a large, high-performing international company, in local unit with an entrepreneurial spirit and an agile mindset

A corporate culture that is professional and dynamic, yet informal. Bureaucracy is kept to a minimum, as we expect our skilled employees make long lasting and impactful decisions to shape our future

An excellent working environment with highly competent, dedicated and friendly co-workers

A competitive salary and compensation package
AML and Risk System Specialist

We have great hope and plans for the future. Join us on the journey as our AML and Risk System Specialist

Santander is developing and growing. We are one of the biggest and exciting financial institutions in Europe and as a company we embrace the agility to innovate. We believe in sustainability, team- based ways of working and in accepting and valuing differences between people - and so do you.

We believe remote working contributes to a more diversified workforce. You need to be willing to learn, self-sufficient and flexible – so are we. Since work is a huge part of your life, we want it to be interesting and fun. We keep up with the latest technologies, tools, and tricks of the trade - we are always refining our approach, and everyone has a seat at the table.

We are looking for you who have a bachelors or master's degree in Computer Science, Information Technology, Business Administration or Project Management and minimum two years' work experience after finishing your degree.

Your contribution to the team includes

Be part of a team responsible for our AML and Risk systems from a technical perspective
Ensure our AML and Risk system is running and maintained
Handle requirements from our business, risk, operations and compliance
Follow-up of partners (Oracle and Basefarm)
Delivery infrastructure (secure capacity etc.)
Follow-up, operation and monitoring of our AML system
Participate in AML and Risk related initiatives and projects
AML and Risk Support in-house

Your qualifications and skills:

Unix experience
Oracle experience
F5 load balancer understanding
Risk, AML, KYC, screening understanding
Sanctions list understanding
Strong troubleshooting experience

Fluent in one of the Nordic languages and English

You shall also have a residence and work permit in one of the Nordic countries

Are you interested?

If you have the right profile, will and enthusiasm, please send your application and CV via the link.

You are welcome to contact Jan Erik Secker on tel. +47 995 05 615, if you have any questions about the position.

The job is to be filled as soon as possible, so we therefore encourage you to send your application as soon as possible and by the latest September 30, 2021.
Quality & Complaints Specialist

Quality & Complaints Specialist in Operations

We are looking for a Quality & Complaints Specialist in the Quality, Complaints & Analytics team.

Your tasks and areas of responsibility and deliveries:

Ensure right quality and execution of daily logged complaints/incidents
Drive and ensure harmonization, efficiencies and standardization through optimizations
Deliver on personal and business goals
Ensure strong collaboration across teams and functions
Maintain and document processes
Ensure that policies and procedures are followed and in cooperated in the rest of Operations
Execute training and knowledge sharing in team and across Operations to ensure correct behavior ref. NFR and complaints
Complaints: ensure handling, reporting and follow up and execute on actions plan
Ensure adequate updates of process, risk and control ownership. Review all risks on a yearly basis and monitor adaptation of relevant controls
Monitor adequate documentation of controls across operations (Heracles driven). Review adequate control evidence on a quarterly basis, either by delegation or through samples
Responsible for reporting and investigation of up risk and compliance events for Operations (incl. GDPR reporting). Support function on information gathering regarding up risk events, risks and controls
Participate in monthly coordinator meetings
Follow-up on events in own function in cooperation with managers, action owners and others. Responsibility for mitigation of risks depends on what is decided in each function and BAU process
Help preparing (written) status updates for NFR&C meetings
Participation in Risk Control Self-Assessment (RCSA) process and Thematic Risk Assessments
Promote and assist work on internal controls
Participate in new tool methodology

Activities within the role:

Main process:

Non-Financial Risk/Op Risk Events (support Operations within ICM, BIA and RCSA)
Reporting (internal and external)
Complaint handling (support and report)
Training inhouse and partners (Collection)

Your qualifications and skills:

Strong communicator and good team player
Strong ability to execute
Highly analytical and solution oriented
Strong ability to understand complex issues
Passionate about risks, controls, documentation, and structure
Data driven
Proactive and solution driven attitude – love to succeed
Motivate, inspire, and energize your surroundings
Structured and a doer
Transparent, open, and honest

Qualifications and experience:

Solid understanding and experience from financial/service industry
Good understanding and knowledge of customer/partner journeys/processes
Highly used to and understand relevant laws and regulations
Solid business understanding and deep knowledge of policies and procedures within areas of responsibility
Ability to understand complex dependencies across the bank
User experience of tools in order to support areas of responsibility and deliveries
Ability to effectively train and covey messages to others
Solid in written and spoken English.
Minimum 2 years of experience within areas of responsibility
Experience from the financial industry
Knowledge within area of responsibility especially NFR risks and controls, reporting and complaints handling
Experience working across the Nordic countries

If you have the right profile, will and enthusiasm, please send your application and CV via the link.

You are welcome to contact Rikke Hartvich on tel. +45 31 72 44 88, if you have any questions about the position.
Technical Project Coordinator

Technical Project Coordinator

Do you want to shape the future of banking?

We are looking for a Technical Project Coordinator (TPC)

The financial industry is changing fast and in Santander we embrace innovation and enjoy the opportunities that new technology yields. Technology is in the core of what we do, and we know that business operates best when IT is at its best. That is why we seek a new TPC to be a part of our data driven journey.

We are looking for a person, preferably with a higher degree in Economics or Computer Science & Information Technology and previous experience from

The Technical Project Coordinator is under moderate supervision of the Infrastructure Manager responsible for reporting infrastructure activities in projects and initiatives towards project owner.

Project manager role in internal project, coordinate with technical resources and stakeholders. Create and distribute communication related to change and get commitment from relevant parties to enable success.

The Technical project Coordinator needs to have a good understanding of IT Infrastructure, and frameworks, methodology used to ensure deliverables according to plan.

Area of Responsibility

Lead internal projects for the department, create mandate, establish project plan, and resource / cost estimates
Prioritize, and report to Project Office, on Santander defined priorities
General administrative support to the Infrastructure department
Build, and communicate the service offerings, priorities and responsibilities to external stakeholders
Continuous development, documentation, and improvement of internal processes
Assist and QA for documentation structures
Develop governance with other functions within IT and Business area
Support on technical and non- technical coordination tasks

Personal:

Highly self-motivated and directed
Ability to work Independent as well as in a team
Analytical and structured
Good interpersonal skills working in a team-oriented, collaborative environment
Business and customer oriented
Ability to work in stressed situations handling multiple tasks at the same time
Ability to coordinate resources internal and external
Demonstrated leadership ability to making sound decisions and judgments
Ability to work with remote colleagues
Good facilitation, collaboration, negotiation, and presentation skills

Qualifications:

Bachelor/Master in technology or IT, experience from IT operations and or IT infrastructure
Certification on relevant frameworks
3 to 5 years of IT experience with banking or other strongly secured infrastructures
Fluent in one of the Nordic languages and English
You shall also have a residence and work permit in one of the Nordic countries
Auto Direct Sales Manager, Commercial, Norway

Do you want to lead the further development of the direct Auto distribution in a bank with extensive knowledge of car financing? Do you have experience from product development, sales management, car industry or subscription services? As Auto Direct Sales Manager, you will drive the commercial development as well as product development of the Auto direct market. This will call for a strong commercial acumen along with an ability to define clear and achievable roadmaps for achieving the sales targets and the product development. You will work in an open and transparent environment where feedback in all forms in encouraged.

In this role you are expected to create long-term value and opportunities for Auto Direct by follow up against sales targets and KPI's that drives the sales results. You will also have a responsibility to improving existing product offering and introducing new features to this market. Furthermore, you are expected to create and maintain a strong external network with our partners and continuously building the Santander brand in the market. In addition to this, a part of the role will also be to act as an ambassador of the Auto Direct market towards internal stakeholders, locally, in the Nordics but also towards HQ.
Sales Consultant Consumer - Temp

Origination Consumer, Santander Consumer Bank

Santander Consumer Bank er en del af Europas største finanskoncern og er i gang med en rivende udvikling på det danske marked. Vi tilbyder et vikariat til og med februar 2022 i et spændende og udfordrende miljø med gode og dygtige kolleger. Der er tale om et job, der giver dig god mulighed for faglig og personlig udvikling i en dynamisk virksomhed.

Jobbet

Som Sales Consultant vil du sammen med teamet være ansvarlig for kreditvurdering af kunder, som ønsker at låne til en drøm, som de har. Denne drøm kan også opfyldes igennem en forhandler/butik, som vi samarbejder med. Det betyder, at du får kontakt med forhandlere både på telefon og mail. Du vil blive en del af et team på 9 kollegaer.

Dine opgaver bliver blandt andet:

80% af hverdagen består af at besvare opkald fra vores kunder/forhandlere
Foretage kreditvurderinger af ansøgninger på alle produkter i teamet
Servicering af forespørgsler fra private kunder og forhandlere på igangværende ansøgninger, både telefonisk og skriftligt
Deltage i afdelingens ad hoc opgaver
Skiftende arbejdstider i tidsrummet hverdage fra kl. 8-20, lørdag fra kl.10-18 eller søndag fra kl.9-17. På nuværende tidspunkt 1 aftenvagt pr. uge og 1-2 weekendvagt/er pr. måned

Dine kvalifikationer

Faglige:

Har erfaring med at servicere kunder via telefon og mail
Gerne have erfaring med kreditvurdering
Er drevet og motiveret af at give en fantastisk service og overholde deadlines
Trives med forandringer, et højt tempo og har et personligt overskud til at gå forrest
Du er proaktiv og er god til at se mulige forbedringer i processer

Personlige:

Gode kommunikative egenskaber, der er loyalitetsskabende overfor kunder/partnere
Du er teamplayer og deltager aktivt gennem dit engagement og store drive
Er konkurrenceminded og motiveres af nå dine egne og virksomhedens mål
Du er struktureret og god til at skabe overblik samtidig med, at du har flere bolde i luften

Hvad tilbyder vi?

Vi tilbyder et spændende job i en stor og voksende finansvirksomhed med ordnede arbejdsforhold, hvor din indsats har stor betydning for virksomhedens resultat. Ydermere tilbydes du pensionsordning, sundhedssikring og et godt introduktionsforløb.

Er du interesseret?

Har du den rette profil, vilje og entusiasme, bedes du sende din ansøgning og cv via linket.

Du er velkommen til at kontakte Serpil Karatas på tlf. 60376804, hvis du har spørgsmål til stillingen.

Jobbet ønskes besat hurtigst muligt, så vi opfordrer derfor til, at du sender din ansøgning snarest muligt. Alle ansøgninger behandles fortroligt.
Consumer Cards & Payments Risk Analyst

Do you have experience from credit risk within the field of analytics, underwriting and/or portfolio management? Do you have proven proficiency in Excel/VBA, SQL/SAS/R/Python? As Cards & Payments Risk Analyst you have the responsibility of Credit Risk for all activities relating to the Cards & Payment Portfolio/Portfolios under your management.

You are responsible for the development and fine-tuning of credit risk strategy, framework, and risk appetite, securing sound credit processes. The duties include continuous optimization of the credit decision process through data analysis and mining. You are also responsible for drafting, evaluating, and assessing change requests and new product introductions influencing credit risk including profitability and the risk/cost of servicing the product.

As Cards & Payments Risk Analyst you are responsible for summarizing and communicating the performance of the relevant portfolios and segments, including forecasting of future trends. In addition, you proactively monitor and reports portfolio performance and new business profitability by segment with the skill to identify, address and explain credit risk drivers as part of credit cycle and its relationship with regulatory parameters (EAD, PD, LGD), capital impact (RWAs), and profitability (RoRWA)

Activities

Plan, develop & implement portfolio management strategies in all portfolios to maximise profitability
KPI responsibility for portfolios, ensuring that performance is monitored and issues addressed
Drive profitability analysis at portfolio level and lead loss forecasting planning sessions
Implement and optimize scorecard strategies & IRB Parameter models together with internal modelling team
Proactively drive analysis, assess impact of both internal and external environments upon portfolio and existing strategies
Budget and measure performance against budget
Close cooperation with Commercial counterparts and taking part in X-functional initiatives and projects
Summarize and communicate underwriting trends, portfolio performance and changes on credit policy to management raising concerns and recommendations to the appropriate level of management
Model Ownership (Delegated from Payments Portfolia leader depending on seniority)
Retention & Loyalty Specialist

Do you want to be responsible for leading the important area of retention in the customer journey across the Nordics? This means to find models together with Data & Analytics team to predict churn, define target groups and models for x-sales, anti-churn and win back.

This role is key to increase profitability, improve our customer journeys and create loyal customers. This person needs to actively come up with improvements with Customer Journey Process owner, Netbank owner and other relevant stakeholders to implement effective and necessary measures in relevant channels. Including actively suggest/support/develop and follow up solutions to improve Retention in digital channels.

Close relations with Operations is key and a huge part of the job is to help develop quick and easy processes/decisions to keep, maintain and/or win back customers

Campaign Management is also an essential part of the job description. Deliver on targets in the retention phase of the customer journeys. Improve rigor testing methodology and be involved in planning and executing media plan together with Tactical sales managers and the rest of the Digital marketing team.

Co-responsible for portfolio profitability together with the rest of the Marketing team. Deliver strategy, action plans, cost budget & reporting. Track activities and implement powerful test & learn environment - optimization within Retention in all channels within mandate

Build brand awareness & credibility, and a positive Word of mouth among customers on book, and ex-customers. Ensure holistic operational planning, execution, coordinate and work closely with Marketing team and Data & Analytics team.

The role will also start focusing on building a holistic strategy and a roadmap of planning, building, and eventually implementing a loyalty concept in CRM across the Nordics.

Activities

Retention - drive the development of cross Nordic churn prevention programs and build a stronger brand through an improved customer journey.

Loyalty - build a cross Nordic loyalty program that will offer our customers additional value and incentives to remain a customer. Build a stronger brand and an improved customer experience

Experience

Proven results and experience within the field of Retention management and strategy work around that area
Minimum 3 years relevant / project management experience
Experience in a sales/marketing related role is an advantage
Experience with setting clear requirements internally
Experience with insurance products is an advantage
Experience with cross-sell processes and strategy work is a clear advantage
Project Manager

Do you want to be responsible for managing key projects and drive value creation at Santander Consumer Bank? Do you have at least 5 years project or program management experience and prior experience working with facilitating management decisions?

Project Managers are responsible for initiating, planning, executing, monitoring, controlling and closing projects. They are accountable for managing project scope, project team and for directly influencing the success of the project.

Project Managers will be part of the Change Methodology team as a pool of professionals for the bank and will be dynamically assigned to projects under the sponsorship of a functional area – driven by the Bank's priorities. Functional Sponsors are overall accountable for project success, securing key governance decisions and benefits realization.

Project Manager responsibilities include:

Initiation – Development of a project charter outlining among other things the objectives, scope and benefits of the project and identifying key stakeholders

Planning – Development of a project plan, key milestones and governance decisions, work breakdown scheme, resource planning, cost planning, quality requirements, planning of communications, training, procurement, risk management and stakeholder engagement

Execution - Directing and managing all work for the project, managing deliverables quality and testing, managing communications, securing necessary procurements, managing stakeholder expectations, driving value-based outcomes

Monitoring, controlling and reporting - Monitoring and controlling project scope/work and managing any necessary changes, resources, costs, procurements, risks and issues (and necessary escalations). Accurate and timely reporting of project execution status and deliverables.

Closure – Ensuring closure of deliverables and handover to relevant teams.
Risk Management Information Analyst

Do you enjoy working with data, do you have an analytical mindset and are you interested in collaborating in an international team towards excellence in risk reporting using IFRS9 (loan losses)? Then this job opportunity is a must see!

The Risk Management Information analyst is a role in the Enterprise Risk Management department. You will be working in a vital area of Santander´s risk strategy where your daily job will involve collaboration across the different departments inside Risk as well as with other functions outside Risk, such as Finance, Collections, IT and HQ (among others).

You will be part of a friendly, collaborative and supportive team where your area of responsibility will include extracting and working with data, IFRS9, and reporting: month close, consolidation, budgeting and forecasting across the Nordic countries. Data will be a key part of your work as it is an essential part of all risk processes to identify, measure and mitigate risks inherent to our core business activities.

Main activities

Ownership and delivery of Nordic risk reporting, analytics and consolidation: period closing, forecasting and budgeting processes (monthly, quarterly, annually).
Data analytics and use of BI tools for reporting automation.
Applying IFRS9 regulation to implement internal policies, financial reporting needs and memos to support accounting IFRS9 decisions related to loan losses.
Preparation and performance of ad hoc analysis for reporting to relevant stakeholders, including management, HQ and auditors.
Developing common, documented, best practice ways of working for closing and forecasting processes
Solving delivery and sourcing challenges in a common way and working with teams to build on the future common data infrastructure
Working together with Risk and Business Units regarding IFRS9 regarding loan losses and in ad hoc projects.
Delivery on internal control methodology (including SOX), and upkeep of our risk data quality environment and compliance with BCBS 239.
Cyber & Technology Risk Control Leader

Do you want to be responsible for oversight and control of cyber & technology risk and strengthen Santander's cyber resilience in the Nordic countries?

The Santander Group adopts the NIST standards for the enterprise wide management of cyber security, across 5 key domains defined in the framework. As a 2nd Line of defense role, the Cyber & Technology Risk Control Leader is accountable and responsible for oversight and control of cyber and technology risk, and to strengthen Santander's cyber resilience in the Nordic countries.

Your tasks include:

Be accountable and responsible for oversight and control of cyber and technology risk (as 2nd line in the Three Lines of Defence governance model).
Ensure completion of the Risk Self-Assessment and Thematic Evaluation process for cyber and technology risks and provide oversight and control of the outputs from all Nordic units across the 1st and 2nd lines of defense.
Provide continuous oversight and assurance of cyber and technology risk KPIs and KRIs to ensure effective management of cyber and technology risk by the 1st line of defense.
Keep oversight and control of technology and cyber risk policies, procedures and processes via agreed governance processes.
Review and challenge all cyber and technology risk-related documents or reports given to senior management team prior to submission.
Overview all Cyber Security (IT) initiatives and IA recommendations related to technology or cyber risks.
Promote and communicate cyber and technology-related risk assessment in line with the need to protect the institution by means of a robust cyber and technology risk oversight and control environment.
Work with relevant stakeholders and provide education and awareness of cyber risk assessment, cyber risk control and remediation to ensure consistent messages and support for the development of a cyber-security culture.
Escalate to management situations of concern from a technology and cyber control and remediation standpoint, or that may mean a violation of the defined limits for the entity's risk appetite or strategy.
Lead or participate in the development and implementation of initiatives within non-financial risk.
Visar respekt
Vi visar respekt och behandlar andra så som vi själva vill bli behandlade. Vi bekräftar och uppskattar våra olikheter.
Lyssnar på riktigt
Vi lyssnar och visar empati för att förstå andras behov.
Talar klarspråk
Vi talar klarspråk, agerar konstruktivt och kan anpassa oss till andra.
Håller våra löften
Vi håller våra löften och är konsekventa i allt vi gör.
Samarbetar aktivt
Vi uppmuntrar aktivt till samarbete för att hitta den bästa lösningen för kunder och kollegor.
Tillför passion
Vi tillför passion, ger energi och gör vårt bästa för att förtjäna lojalitet från kunder och kollegor.
Stöttar människor
Vi stöttar människor i deras utveckling, ger feedback och visar uppskattning för deras insats.
Välkomnar förändring
Vi välkomnar förändring, bidrar med innovativa lösningar och lär av misstag.
Nyrenoverat kontor i Solna Strand nära T-bana, pendel och bussar
I våra nyrenoverade lokaler har vi tillgång till gym och pool och varje vecka erbjuds de anställda att delta i olika träningsaktiviteter som t ex yoga, crossfit, löpteknik m.m.
En nordisk bank med spanska rötter
Vi tillhör den globala koncernen Banco Santander som har 144 miljoner kunder och över 200 000 anställda i 45 länder. En halv miljon kunder i Sverige och på kontoret i Solna jobbar över 400 engagerade medarbetare med att skapa en enkel, personlig och pålitlig bank.