Jobba hos oss - Kom och bygg framtidens bank hos oss i Solna!
Vi lever vårt varumärke genom att ha en kultur som genomsyras av våra värdeord – Simple, Personal and Fair. De är nyckeln till hur vi blir det självklara valet för våra kunder och den bästa arbetsplatsen för våra anställda.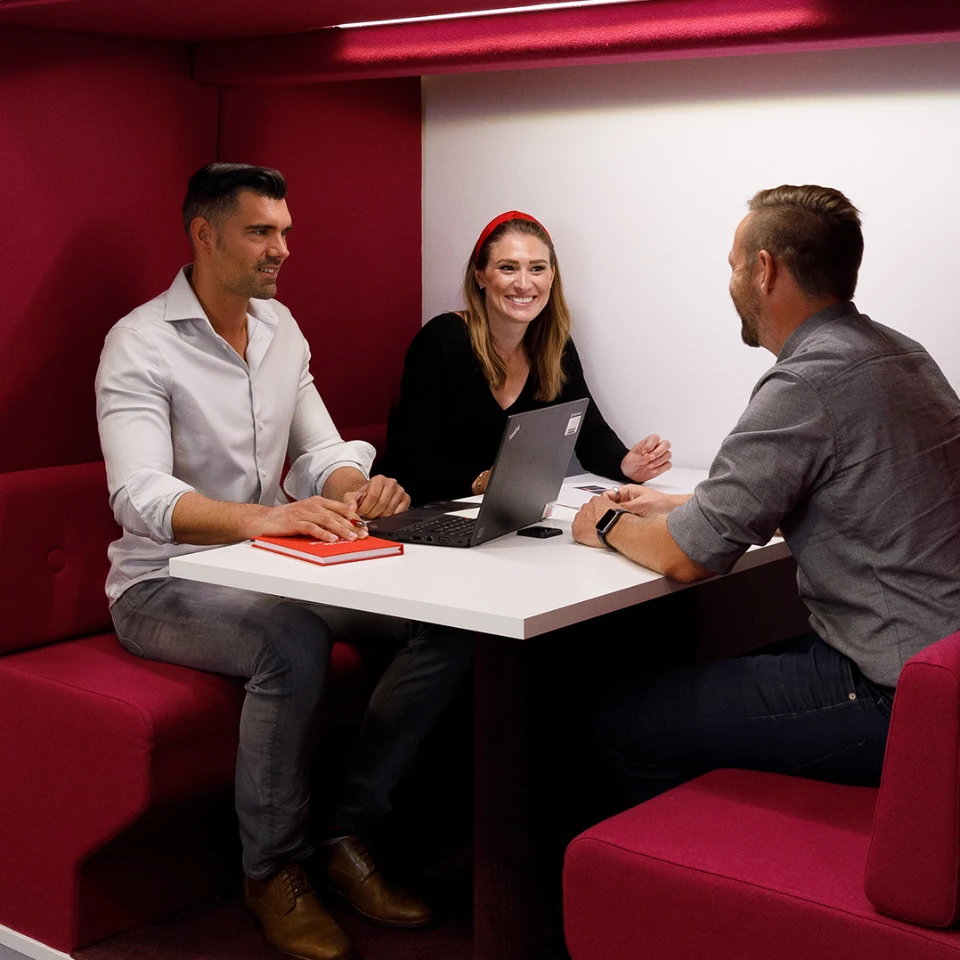 Vill du bli en av oss?
Se våra lediga tjänster.
Consumer Insights specialist

We have an interesting temporary position – could you be the one we are looking for?

Do you enjoy having a solid focus on insight drivers and a clear understanding on customer behavior in all four markets in our region? Then this job is a perfect match, as your insights will be used in practice and you will make a difference. You will be working with excellent and highly motived colleagues in our Nordic marketing team.

Main task and responsibilities

We are a new Nordic organization and you will work with insights and colleagues in Denmark, Sweden, Norway and Finland. Previously , all four countries have been communication after their national understanding of the HQ brand platform, tone of voice etc. We are now on a journey to align our expression and appearance, and here we are highly dependent on consumer insights so we can base our decisions on facts and customer needs.

The tasks will include, but not be limited to the following:

Communicate/involve all departments initiatives proactively
Responsible for following up vendors
Work closely with stakeholders to collect and share insights
Work out and run NPS and analyze surveys in 4 markets
Create and run Nordic Customer Panel
Tracking of the Santander brand in all four countries
Run customer relations insights program
Collect and analyze consumer behavior
Understand and be part of improvement initiatives related to customer journeys
Initiate surveys together with Operations, Responsible Banking team etc.
CRM surveys
Integrate Sponsor insights in brand tracking

Personal Characteristics

Analytical - Quickly grasps complex issues and problems. You identify the core of a problem and evaluates information thoroughly
Acts on own initiative – you follow own direction and expresses own views and opinions freely
Enjoys working as part of a team
Sets self-demanding targets; enjoys difficult challenges; wants to get ahead and succeed
Shows drive and determination - you take an energetic approach to work, remains focused and in control under pressure

Competencies and Skills

High quantitative and analytical competence, structured, result oriented, proven initiative
Communicates in a clear, precise and structured way; speaks with authority and conviction; presents effectively
Proven ability to identify opportunities and develop improvement initiatives
Acts on own initiative, makes things happen and accepts responsibility for the results
Ability to adapt to changing environment & market changes
Creative problem-solver with good business intuition
Well-organized and able to meet multiple deadlines
Fluent in written and spoken English
Ability to translate insights to commercial peers

Preferred Experience & Education

Preferably 3-5 years of relevant experience in the field of marketing, customer insights, analytics or similar.

You have a Bachelor or higher education of Science in Economics and Business Administration or similar. Relevant experience can compensate for missing degree.

We offer

A one-year temporary position from August 2021 to end of July 2021
An opportunity to work in a large, high-performing international company, in a dynamic environment that is constantly changing
A corporate culture that is professional and dynamic, yet informal. Bureaucracy is kept to a minimum, as we expect our skilled employees to make long lasting and impactful decisions to shape our future
Highly competent, dedicated, and friendly co-workers with strong collaboration across the Nordics

This position can be located in any of our Nordic locations in Helsinki, Hvidovre, Solna or Lysaker.

Interested?

If you have the right profile and enthusiasm, please submit your application and CV as soon as possible. Applications are considered on an ongoing basis.

If any questions feel free to contact Content Marketing & Sponsorship Leader, Sune Mejding
Due Diligence Specialist - Financial Crime Prevention

Due Diligence Specialist - Financial Crime Prevention

The Financial Crime Prevention works to ensure that Financial Crime prevention and AML, Sanctions and CTF compliance remain a top priority for Santander Nordics. In addition to the financial, reputational, and regulatory risks within this area, Financial Crime Prevention is also an important element of Responsible Banking, and our corporate and social responsibility to fight financial crime. Four different teams within the department focus on different areas of AML, Sanctions and Fraud Risk, covering the whole bank across all four Nordic countries. This role sits within the Nordic Due Diligence team.

As our Due Diligence Specialist in Norway, you have a critical role in helping Santander Consumer Bank truly know its customers and the risks it is exposed to at any given moment. The Due Diligence Specialist will closely collaborate and advise business units involved in execution of customer on-boarding and off-boarding, to ensure it is done according to the regulatory standards and in line with internal rules and procedures with regards to AML, Sanctions and CTF compliance.

Areas of responsibility

Ensure ongoing and enhanced due diligence of customers
Conduct dealer and partner sanctions screening reviews
Provide financial crime prevention (FCC) advisory and support across the Bank for customer on-boarding and off-boarding related matters
Identify, escalate, risks associated to a PEP/RCA, prepare recommendation for final sign-off to the Due Diligence Leader
Prepare risk assessment report for high risk customers (both private and corporate) assessing AML and CTF risks, for final sign-off to the Due Diligence Leader
Ensure yearly AML, Sanctions and CTF review of all high-risk customers
Perform in depth customer/partner due diligence analysis when requested and prepare recommendation for further actions, relationship terminations or retentions
Perform internal controls on onboarded customers and partners; conduct quality assurance (QA) with regards to AML/KYC initial due diligence of existing customers
Assess AML/CTF risks, adjust risk classification of customers and assign if missing in systems
Evaluate and finalize complex customer cases flagged by Operations
Act as Subject Matter Expert (SME) for on-boarding of customers, including beneficial owners and complex ownership structures
Ensure ongoing training for Operations and Commercial teams involved in customer/partner on-boarding

Competence and requirements

Possess analytical mindset
Excellent interpersonal and communication skills (written, verbal, presentation)
Familiar with PEP/RCA, sanctions, beneficial owners, different corporate structures across the Nordics and Europe
Comfortable and quick to learn and use multiple systems simultaneously
Ability to work cross functions and organizational boundaries
Understanding of AML laws and regulations and their interpretation in the Nordics
Fluent in written and spoken English and Norwegian

Experience

2-3 years of relevant work experience within customer onboarding KYC, AML risk assessment, handling financial crime risk and compliance
Understanding and working experience in on-boarding of private customers, beneficial owners, and corporations
Previous experience with KYC and due diligence activities

Education

Higher education in Economics, Business Administration, Law, or any other related field
Relevant experience can compensate for missing degree

Personal characteristics

Strong integrity/ethics – ensures all processes are compliant and follow relevant international and local banking regulations
Organized, structured, result oriented and collaborative
Attention to detail as well as the ability to see the bigger picture and connect the dots
Highly independent, self-driven, innovative, and curious
Ability to identify gaps and inefficiencies in process and suggest an action plan to address the issues
Comfortable to work in a fast-paced environment
Ability to make timely decisions while remaining accurate
Strong negotiators and ability to defend one's opinions under pressure

We offer

An opportunity to work in a large, high-performing international company
A corporate culture that is professional and dynamic, yet informal
An excellent working environment with highly competent, dedicated, and friendly co-workers
A competitive salary and compensation package
Some travel is expected.

We are having ongoing interviews as part of the hiring process, so send your application at the earliest. The job ad will be closed when the right candidates are selected.

For more information about the position, contact the hiring manager - Sanchit Langar - Due Diligence Leader at Sanchit.Langar@santanderconsumer.se.
Enterprise Risk Management (ERM) Consolidation Team Leader

Do you want to work in one of the world's largest financial institutions and help us to become a world leader in risk management? Are you passionate about data, connecting the dots, and like to look for the big picture?

The Risk department is responsible for all matters related to Credit, Market and Operational Risk as well as Enterprise Risk Management across the business units in Norway, Sweden, Finland and Denmark.

We are looking for a team leader to join our Enterprise Risk Management (ERM) function. As an ERM Consolidation Team Leader at Santander Consumer Bank, you will closely cooperate with Risk Management teams as well as with Financial Management, Financial Control, Compliance, Legal, IT and other departments in the Bank. You will also be involved in key processes within risk including risk identification and assessment, risk appetite setting, risk strategy, Internal Capital Adequacy Assessment Process (ICAAP), monitoring and reporting of key risks to executive and board risk committees.

Main responsibilities:

Coordination with various functional leaders across the bank to understand and highlight key risks for awareness and decision making
Responsible for risk reporting to executive management, and relevant committees, including the Board Risk Committee covering all material risk areas the bank is exposed to
Key point of contact for Head Quarters ERM team leaders
Planning and coordination for delivering ERM Goals and Objectives
Coordination across the bank for Enterprise-Wide Risk based initiatives
ERM Risk Cycle, workshop coordination for Risk Identification & Assessment (RIA), Risk Appetite, Risk Strategy and Budget processes
Review cohesiveness and performance of quality control of ICAAP
Maintaining internal regulations for ERM, including monitoring, and following up on risk appetite breaches
UX/UI Designer

Could you be our missing link?

As UX/UI Designer you are the key expert in creating outstanding customer experience through understanding of our users' needs and drives in our digital channels. The role is an important link between end users, internal commercial stakeholder and developers and will also cooperate daily with cross functional roles and teams.

Main task and responsibilities

You will be part of cross functional teams and responsible for optimizing the digital customer experience and the digital business based on insights from customers.

The activities will include, but not be limited to the following:

Identify interaction and design patterns to achieve a consistent user experience.
Translates product demands to user flows and concepts
Define design and behavior in close cooperation with other digital and business experts and be actively involved during development
Ensure that design, terminology, and tone of voice is in line with customer requirements, policies and regulations
Create mockups, wireframes and prototypes of new interfaces, and evaluate and develop existing interfaces
Coordinate and run user tests to gain insights and validate hypothesis
Build relevant network with internal to share insights and gather knowledge to build a broad business and customer understanding
Ensure that correct methods and preferred tools are used in an efficient way
Together with team be responsible for Nordic Design system
Maintains, updates style-guides, templates to ensure speed of development and consistency across all digital channels

The expectations are that you contribute with expert knowledge in UX/UI Design in various projects/channels.

You must be ready to take up the challenge that come with working across countries. But then there is also great potential for creating customer improvements in all Nordic countries.

Personal Characteristics

Team-oriented and considerate - enjoys working with others; is supportive and pleasant to be with
Acts on own initiative - follows own direction; expresses own views and opinions freely
Is systematic and well organized - defines clear priorities, plans well ahead and with realistic time-scales
Can think out of the box; develops imaginative and original ideas and solutions

Competencies and Skills

A customer and consumer mindset
A highly developed sense for interaction and visual design
Passion for user-friendly & efficient graphical design with a feeling for color/form
Expert knowledge about wireframes and prototyping (ex Figma, SketchUp, Adobe XD, InVision, Photoshop or Illustrator).
Understanding of WCAG 2.0, and industry best practices
Experience from customer centric and iterative, and have worked with interviews and user tests, planning and facilitating workshops
Advantage if you have been working with or been responsible for a design system.
Ability to work cross functions, cross border and organizational boundaries
Builds a useful network of contacts and relationships and utilizes it to achieve objectives
Uses a methodical and systematic approach; plans ahead, defines clear priorities and allocates resources effectively
Quickly understands and analyses complex issues and problems; comes up with sound and rational judgements
Strong langue skills both local language and English

Preferred Experience & Education

You have more than 5 years relevant work experience in the area of UX/UI design. Experience in banking sector and of international organizations are preferred. You have a relevant education within UX/UI design. Relevant experience can compensate for missing degree.

We offer

An opportunity to work in a large, high-performing international company, in a dynamic environment that is constantly changing
A corporate culture that is professional and dynamic, yet informal. Bureaucracy is kept to a minimum, as we expect our skilled employees make long lasting and impactful decisions to shape our future
Highly competent, dedicated and friendly co-workers with collaboration across the Nordics

This position can be located in any of our Nordic locations in Helsinki, Hvidovre, Solna or Lysaka.

Interested?

If you have the right profile and enthusiasm, please submit your application and CV as soon as possible. Applications are considered on an ongoing basis.

If any questions feel free to contact Head of Consumer business development, Cecilia DuRietz 
Internal Auditor

If you have an interest in consumer finance markets and want to gain insight into the company's operations and control processes, join the Internal Audit team of Santander Consumer Bank AS.

The Internal Audit of Santander Consumer Bank AS is a permanent function, independent of any other functions or units, whose objective is to provide the Board of Directors and senior management with independent assurance on the quality and effectiveness of internal control, risk management (current or emerging) and governance processes and systems, thereby helping to protect the company's value, solvency and reputation.

The function covers all four countries that the Bank operates: Norway, Sweden, Denmark and Finland. The position is located in the Lysaker office.

EDUCATION & QUALIFICATIONS:

Bachelor or Master's degree in Finance, Business Administration, or similar level of education
Any recognised qualification on CIA, CISA, CRMA, CPA or CFA will be a plus

EXPERIENCE

Preferably 2-3 years of experience within auditing, assurance or equivalent within a regulated organisation
Experience within the financial service industry together with knowledge of main regulatory requirements applied to the financial service industry in Norway and in the Nordic region is an advantage

The tasks will include, but not be limited to the following:

MAIN DUTIES/TASKS:

Participate in internal audit assignments within the Financial Risk team
Complete assigned tasks in each audit assignment within a proper timeframe and high quality in accordance with the International Standards for the Professional Practice of Internal Auditing of the Institute of Internal Auditors and the Santander Internal Audit methodology
Review the compliance with established internal control procedures by examining records, reports, operating practices, and documentation
Assess risks and internal controls by identifying areas of non-compliance, evaluating implemented processes, identifying control weaknesses and inefficiencies and operational issues
Provide other support to the department to secure the accomplishment of the audit plan, when needed

Participate in the annual training program

Stay up-to-date regarding regulatory and organizational changes and relevant aspects affecting the audits
Sales Consultant Consumer

Origination Consumer, Santander Consumer Bank

Santander Consumer Bank er en del af Europas største finanskoncern og er i gang med en rivende udvikling på det danske marked. Vi tilbyder et spændende og udfordrende miljø med gode og dygtige kolleger. Der er tale om et job, der giver dig god mulighed for faglig og personlig udvikling i en dynamisk virksomhed.

Jobbet

Som Sales Consultant vil du sammen med teamet være ansvarlig for kreditvurdering af kunder, som ønsker at låne til en drøm, som de har. Denne drøm kan også opfyldes igennem en forhandler/butik, som vi samarbejder med. Det betyder, at du får kontakt med forhandlere både på telefon og mail. Du vil blive en del af et team på 9 kollegaer.

Dine opgaver bliver blandt andet:

80% af hverdagen består af at besvare opkald fra vores kunder/forhandlere
Foretage kreditvurderinger af ansøgninger på alle produkter i teamet
Servicering af forespørgsler fra private kunder og forhandlere på igangværende ansøgninger, både telefonisk og skriftligt
Deltage i afdelingens ad hoc opgaver
Skiftende arbejdstider i tidsrummet hverdage fra kl. 8-20, lørdag fra kl.10-18 eller søndag fra kl.9-17. På nuværende tidspunkt 1 aftenvagt pr. uge og 1-2 weekendvagt/er pr. måned

Dine kvalifikationer

Faglige:

Har erfaring med at servicere kunder via telefon og mail
Gerne have erfaring med kreditvurdering
Er drevet og motiveret af at give en fantastisk service og overholde deadlines
Trives med forandringer, et højt tempo og har et personligt overskud til at gå forrest
Du er proaktiv og er god til at se mulige forbedringer i processer

Personlige:

Gode kommunikative egenskaber, der er loyalitetsskabende overfor kunder/partnere
Du er teamplayer og deltager aktivt gennem dit engagement og store drive
Er konkurrenceminded og motiveres af nå dine egne og virksomhedens mål
Du er struktureret og god til at skabe overblik samtidig med, at du har flere bolde i luften

Hvad tilbyder vi?

Vi tilbyder et spændende job i en stor og voksende finansvirksomhed med ordnede arbejdsforhold, hvor din indsats har stor betydning for virksomhedens resultat. Ydermere tilbydes du pensionsordning, sundhedssikring, tandlægeforsikring og et godt introduktionsforløb.

Er du interesseret?

Har du den rette profil, vilje og entusiasme, bedes du sende din ansøgning og cv via linket.

Du er velkommen til at kontakte Serpil Karatas på tlf. 6037 6804, hvis du har spørgsmål til stillingen.

Jobbet ønskes besat hurtigst muligt, så vi opfordrer derfor til, at du sender din ansøgning snarest muligt. Alle ansøgninger behandles fortroligt.
Risk Data Analyst

If you're looking for a career in an international company, join Santander and your career will be rich with opportunities to learn and develop.

Our Risk department is a highly diverse team with lots of opportunities to learn and grow. The department oversees a broad range of risk taxonomies (e.g. credit, operational, capital, residual value and liquidity). We are forward-looking and are supporting our business by always having the customer at the center.

We are currently strengthening our Risk Data and Infrastructure team with a new Risk Data Analyst.

The Risk Data and Infrastructure team is a support function within the Risk department and part of the enterprise-wide data community, responsible for developing the data foundation that allows the Risk area to support the bank on key critical processes.

We are looking for a candidate with hybrid technical and analytical skills. Your will have responsibility for designing, validating and monitoring Risk data marts so that the area can run key business processes (analytical, regulatory and reporting) efficiently and with the highest data quality.

As a Risk Data Analyst, your main tasks will:

Work collaboratively with the different areas in the Risk and IT departments to maintain and develop existing and new data solutions used in the Risk department:

Preparation of technical requirements based on business requirements from key stakeholders (definition of the scope, identification of relevant data sources, detailing of transformation and derivations)
Follow up with data warehouse developers to ensure the solutions developed are done according to requirement
Quality assurance and validation of the solutions in test environments
Monitoring of the solutions after launch in production

Prepare documentation on risk data assets for internal as well as external parties (e.g. regulators and external auditors)
Take part in ongoing transformation projects, ensuring at all times that data for risk is of the best quality
Participate as data expert from the Risk department in the design of the Nordic data warehouse for the company
Cooperate with teams responsible for data quality and governance in the Bank, lead and execute improvement initiatives focused on assisting our business areas to make better decisions
Finance Executive Coordinator

Vi ser etter en topp motivert og strukturert strategi- og styringskoordinator for vår nordiske Financial Control funksjon.
I denne stillingen vil du samarbeide tett med funksjonens ledergruppe og ha ansvar for å organisere og følge opp ledergruppens strategiske aktiviteter.
Du vil samarbeide nært med funksjonens leder (Chief Controlling Officer), delta i styringskomiteer, rapportere og følge opp aktiviteter og beslutninger. Erfaring med det nordiske bank-markedet vil være en fordel i stillingen. Rollen rapporter til Finance Data Leader.

HOVEDANSVAR
Følge opp funksjonens portefølje av prosjekter og følge opp prioriteringer, beslutninger og aktiviteter innenfor vårt mandat.
Organisere og følge opp strategiske aktiviteter i forhold bankens og funksjonens mål.
Ta del i planlegging og diskusjoner om prioritering av ressurser innen funksjonen.
Organisere og følge opp funksjonens ledermøter.
Assistere Chief Controlling Officer i den strategiske ledelsen av funksjonen.
Bistå i utvikling av strategiske modeller, planer og verktøy for å definere og følge opp funksjonens mål, samt oppfølging av effektiviserings-planer.

ENGLISH
We are looking for a highly motivated and structured Strategy and Governance Coordinator to our nordic Financial Control function.

In this position you will work closely to the Financial Control Management Team supporting the management and governance of the function. You will oversee and organize management meetings and activities to ensure that projects and initiatives are aligned with the strategy and objectives for the function and the Bank.

You will work closely with the Chief Controlling Officer, and participate in committees and project Steering Committees related to Financial Control and reporting back to the Financial Control Management Team. Experience from the Nordic bank market will be an advantage in the position. The role is organizationally reporting to the Finance Data Leader.

Main responsibilities

Follow up the entirety of Financial Control's portfolio of projects and initiate actions within mandate to ensure progress.
Oversee, supervise and organize activities and meetings to ensure alignment with both the Financial Control's and the Bank's objectives.
Take part in discussions on prioritizing and allocation of resources within the function and developing plans for allocating resources.
Organize, take notes and follow up Management Team meetings, including relevant Steering Committee meetings.
Assist Chief Controlling Officer in executive tasks.
Tracking of improvement plans and deliveries.
Develop models, plans and tools to meet the objectives and deadlines of Financial Control through defined projects and initiatives.
Visar respekt
Vi visar respekt och behandlar andra så som vi själva vill bli behandlade. Vi bekräftar och uppskattar våra olikheter.
Lyssnar på riktigt
Vi lyssnar och visar empati för att förstå andras behov.
Talar klarspråk
Vi talar klarspråk, agerar konstruktivt och kan anpassa oss till andra.
Håller våra löften
Vi håller våra löften och är konsekventa i allt vi gör.
Samarbetar aktivt
Vi uppmuntrar aktivt till samarbete för att hitta den bästa lösningen för kunder och kollegor.
Tillför passion
Vi tillför passion, ger energi och gör vårt bästa för att förtjäna lojalitet från kunder och kollegor.
Stöttar människor
Vi stöttar människor i deras utveckling, ger feedback och visar uppskattning för deras insats.
Välkomnar förändring
Vi välkomnar förändring, bidrar med innovativa lösningar och lär av misstag.
Nyrenoverat kontor i Solna Strand nära T-bana, pendel och bussar
I våra nyrenoverade lokaler har vi tillgång till gym och pool och varje vecka erbjuds de anställda att delta i olika träningsaktiviteter som t ex yoga, crossfit, löpteknik m.m.
En nordisk bank med spanska rötter
Vi tillhör den globala koncernen Banco Santander som har 144 miljoner kunder och över 200 000 anställda i 45 länder. En halv miljon kunder i Sverige och på kontoret i Solna jobbar över 400 engagerade medarbetare med att skapa en enkel, personlig och pålitlig bank.