Jobba hos oss - Kom och bygg framtidens bank hos oss i Solna!
Vi lever vårt varumärke genom att ha en kultur som genomsyras av våra värdeord – Simple, Personal and Fair. De är nyckeln till hur vi blir det självklara valet för våra kunder och den bästa arbetsplatsen för våra anställda.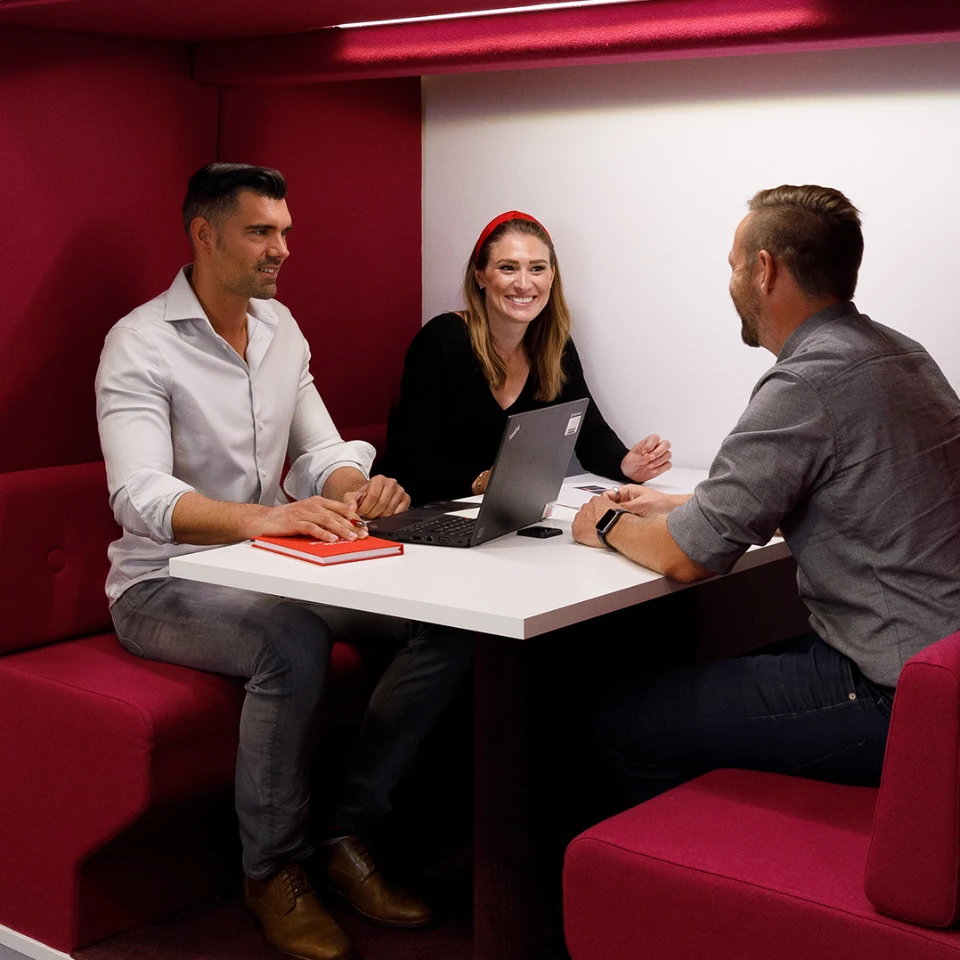 Vill du bli en av oss?
Se våra lediga tjänster.
Risk Data Analyst

The role of the Risk Data Analyst encompasses the responsibility of ensuring the availability of timely, valid, and reliable data in the Risk data repositories that are predominantly utilized by the risk function. It is imperative for the Risk Data Analyst to work closely with the product owner of the risk data repositories to ensure that requests from the risk stakeholders are effectively deployed under the implemented agile framework.

The Risk Data Analyst holds accountability for the translation of business requirements received from various sources, such as different risk functions, regulatory requirements, or different projects, into technical requirements that include (pseudo) codes and testing strategies. This entails a meticulous approach towards analyzing and verifying the accuracy of the data that is inputted into the system, with the ultimate goal of delivering high-quality results.

Activities

Conduct a comprehensive analysis of business requirements to identify opportunities for process improvement
Collaborate with subject matter experts to facilitate the specification of user stories and establish acceptance criteria
Support Product manager in backlog grooming
Develop thorough documentation of business processes, procedures, and systems to effectively communicate critical information to stakeholders
Collaborate with cross-functional teams to identify and document user requirements and business needs Assist in user acceptance testing to ensure systems and processes meet user requirements and expectations
Communicate complex technical concepts clearly and concisely to non-technical stakeholders to facilitate collaboration and understanding
Continuously monitor and report on the effectiveness of implemented solutions and identify areas for optimisation
Develop and maintenance of the Risk data business intelligence dashboards
System Owner

We at Santander are proud to be one of the biggest and exciting financial institutions in Europe, and as a company we embrace the agility to innovate. We believe in sustainability, team-based ways of working and in accepting and valuing difference between people.

Since work is a huge part of your life, we want it to be interesting and fun. We keep up with the latest technologies, tools, and opportunities - we are always refining our approach, and and with us you are part of influencing this.

Your main responsibility is to further develop a solution for the establishment and continuous risk classification of customers in the Nordics using the Trapets InstantWatch platform. You will participate actively in the Bank's development activities and projects and have responsibility for deliveries and solution design. An important task will be to keep to the development plan and roadmap for the applications, in close collaboration with system owners and suppliers.

You are comfortable with both administrative and technical tasks and will contribute together with the team on all parts of application management. You should therefore have a good technical understanding and knowledge of architecture, data flow and troubleshooting/analysis.

The areas of responsibility:

Responsible for anti-money laundering systems from a technical perspective
Primary contact towards our business for service delivery (operations, development, risk and compliance)
Establish and manage long-term plans for development in collaboration with business and architects.
Follow-up of relevant suppliers and partners in accordance with the SLA and development activities
Actively participate in AML and risk-related initiatives and projects

As a Santander employee, you get:

An opportunity to work in a large, high-performing international company, in a dynamic environment that is constantly changing.
Versatile and challenging tasks with a high degree of flexibility and responsibility.
Great development opportunities both locally and internationally.
A competitive salary and compensation package.

Your qualifications and skills:

Minimum Bachelor's degree in technical subjects followed by a minimum of one year's working experience. This can be replaced by relevant experience from equivalent roles.
Experience from a role as system owner, administrator, or technical project management
Knowledge of the design of system documentation and architecture, troubleshooting and data analysis
Good communication and presentation skills, both in written and orally
Knowledge of Trapets InstantWatch or similar platforms is an advantage.
Good professional knowledge of anti-money laundering is an advantage
If you also have experience from scrum teams, project management or system implementation projects, it's seen as an advantage.

Are you interested?

If you are curious about the position and want to make Santander even better equipped in the fight against money laundering, we would like to hear from you!

You are welcome to contact Jan Erik Secker on tel. +47 995 05 615, if you have any questions about the position.

The job is to be filled as soon as possible, so we therefore encourage you to send your application as soon as possible and by the latest June 25, 2023.
Fund Manager

We are looking for a Fund Manager to join our Nordic Financial Management Department in Santander Consumer Bank AS. The department consists of five subgroups which are all located at Lysaker: Treasury & Analysis, Secured Funding, Unsecured Funding, Capital Management and Customer Deposits.

The Fund Manager role will be part of the Treasury & Analysis team consisting of five people. The team is responsible for management of the operational liquidity, interest rate risk, currency risk, financial planning and management of the banks liquidity reserve portfolio. Treasury & Analysis perform all activities on behalf of the four Nordic countries we operate in.

Your role will further strengthen Treasury's operations. You will take an operational role in the execution of liquidity transactions, including investment activities, handling parent funding and the use of derivatives when needed. In addition, you will be an important analytical resource for Treasury and the Financial Management department, which involves both model building and supporting the long term financial planning for the Bank. The role involves close cooperation both within Financial Management, but also with other departments, commercial units and the parent company in Madrid.

The ideal candidate will be passionate about problem solving, focused on process improvements, and be comfortable to make quick decisions under uncertainty. For the right candidate, the position offers a broad exposure to financial instruments, balance sheet management, and an opportunity to use technology to solve complex problems.

Areas of responsibility:

Daily liquidity management
Forecasting and transactional execution of the Bank's liquid bonds portfolio
Developing and maintaining the in-house financial models and treasury tools
Ad-hoc financial analysis and partake in treasury projects
Internal reporting and other deliveries on Financial Management related areas
Avoin hakemus

Voit jättää meille avoimen hakemuksen. Olemme sinuun yhteydessä, mikäli meillä aukeaa osaamistasi vastaava tehtävä.
Visar respekt
Vi visar respekt och behandlar andra så som vi själva vill bli behandlade. Vi bekräftar och uppskattar våra olikheter.
Lyssnar på riktigt
Vi lyssnar och visar empati för att förstå andras behov.
Talar klarspråk
Vi talar klarspråk, agerar konstruktivt och kan anpassa oss till andra.
Håller våra löften
Vi håller våra löften och är konsekventa i allt vi gör.
Samarbetar aktivt
Vi uppmuntrar aktivt till samarbete för att hitta den bästa lösningen för kunder och kollegor.
Tillför passion
Vi tillför passion, ger energi och gör vårt bästa för att förtjäna lojalitet från kunder och kollegor.
Stöttar människor
Vi stöttar människor i deras utveckling, ger feedback och visar uppskattning för deras insats.
Välkomnar förändring
Vi välkomnar förändring, bidrar med innovativa lösningar och lär av misstag.
Nyrenoverat kontor i Solna Strand nära T-bana, pendel och bussar
I våra nyrenoverade lokaler har vi tillgång till gym och pool och varje vecka erbjuds de anställda att delta i olika träningsaktiviteter som t ex yoga, crossfit, löpteknik m.m.
En nordisk bank med spanska rötter
Vi tillhör den globala koncernen Banco Santander som har 144 miljoner kunder och över 200 000 anställda i 45 länder. En halv miljon kunder i Sverige och på kontoret i Solna jobbar över 400 engagerade medarbetare med att skapa en enkel, personlig och pålitlig bank.